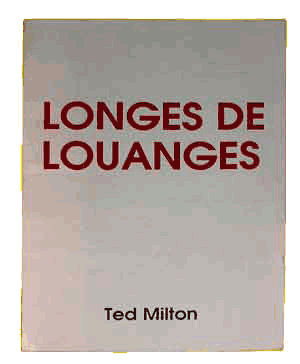 "Longes De Louanges" was published by Small Press organisation Tak Tak Tak in 1986 and contains the poems that make up some of the songs to be found on the Blurt records "A Factory Quartet", "Blurt", "Bullets For You", Poppycock", "Smoke Time" and "Kenny Rogers' Greatest Hit". Tak Tak Tak also released a casette/cd with Ted reciting the poems from "Pagan Strings"
While living in Brussels in the mid-nineties, Ted started to make book-objects with found materials (i.e. varnished cardboard from boxes for the covers with linocut titles and xeroxed poems held together by strings and/or builders clasps, sheet metals, etc...), the "Pagan Strings" series.
Volumes 1 & 2 contain the words to the blurt album of the same name. Volume 3 the texts first performed in Ghent, Belgium, with "L'Orchestre Privé De Pierre José". Volume 4 has the words to the album "Magic Moments". The series was to be 13 volumes in total, at one point counting down from 13 to 12, but volumes 8, 9, 10 and 11 haven't seen the light of day just yet....
Volume 13 has the words to the songs recorded with "Back To Normal Big Band" and volume 12 is a found musical composition he contributed to Baudoin De Jaere's concerto "Lucy Cry Of Hypocamp".
Volume 7 is a very limited fold-out book-object with a linocut fragment of the poem "The Binary Of Lies".
These books were shown on several exhibitions and have been taken up in the collections of the Bibliothèque Nationale in Paris and the British Library.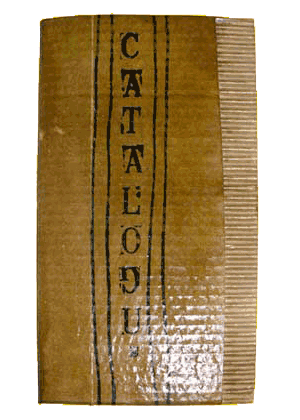 Pagan Strings Volume 5 is a catalogue in the same style of these books and was published for the occasion of an exhibition of his books and the installation "Wordworks" in artspace Plateau in Brussels.
As a poet he has toured America and Europa doing readings/solo shows and in 2006 he was a guest on the Berlin International Literature Festival.