The Fish Needs A Bike
"The Fish Needs A Bike" became their second single and probably is to this day their best known song.
Their second album "Blurt" was recorded in Jake Milton's home studio, this time releasing it trough Red Flame Records and People's Records in Germany.

More touring followed and corporate record companies started to show some interest in the band, but only if the would agree to smooth out their sound and take on a bass player. Typically, Blurt reclined the offers and went on uncompromisingly on their mission: to boldly go where no band had gone before.
After recording the third album, "Bullets For You", ("recorded live in the Cotswolds Wine Cellars") tensions grew between Peter Creese and Ted Milton. Creese left the band in anger and went back to teaching.
To Synth Or Not To Synth
The Milton brothers were on their own now but soon found a new cohort in synthesizer player Herman Martin, with whom they toured in 1985. This rare line-up released the cassette "Six Views In Black - Sixty Minutes Of Blurt In Blighty" and appears with one track on the Abstract Magazine #6 LP.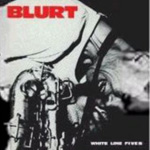 Martin left soon after and Blurt went back to the sax-guitar-drums line-up with guitarist Steve Eagles, a former member punk band Satan's Rats and later of pop-punk band The Photos.
The 12" "White Line Fever" and another live album, recorded in Kortrijk, Belgium, "Friday The 12th", was released on Another Side Records, an offspring label of Les Disques Du Crépuscule in 1985.